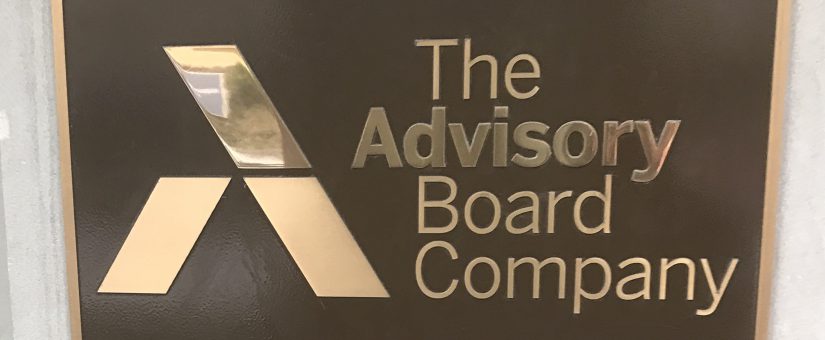 This past week I had the opportunity to travel to Washington D.C. and attend The Advisory Board Company's Post-Acute Collaborative National Meeting.  It was an excellent chance to focus on emergent trends that will certainly impact post-acute providers.  Specifically discussed was the impact of narrowed networks, expansion of post-acute value-based purchasing, Medicare privatization, and other market factors which pose challenges to PAC-providers nationwide.
While it was an intense day and a half of presentations, I've been able to ruminate and come up with several observations that I believe are important to note moving forward.
Reimbursement will continually be tied to performance: As CMS continues to realize its goals to shift from a volume based reimbursement model, PAC-providers will not only have to adjust their business away from a volume-centric archetype, but also navigate the myriad of quality measures associated with these programs. Here are the SNF VBP Quality Measures (CY 2022) and the quality measures being used in the 9-state Home Health Agency VBP Pilot.
Continued Industry transformation will have an impact: Whether it is coming from upstream providers, CMS, or payers, industry transformation will have a direct impact on traditional referral patterns and reimbursement. Post-Acute providers will have to be versatile to adapt and survive under these new models. Additionally, performance based provider networks will force post-acute providers to quantify their value to health systems.  PAC-providers should strategize how they can meet health system needs in order to make themselves valuable partners under this paradigm.
Physicians continue to play critical role in post-acute Care: Physician involvement is imperative for PAC-providers and their strategic goals. Therefore, efficient physician engagement is crucial, especially as PAC-providers work on improving patient outcomes (especially at transfer of care setting) and lowering costs through participation in bundles, or other risk-based contracts.
Regardless of what happens to the Affordable Care Act, paying for value won't go away: There is a high degree of uncertainty surrounding the future of the ACA (that is not news to anyone). From a delivery system perspective, CMS has been able to initiate programs under the health law that have generated marked savings. While these programs may look different in the future, the philosophy of paying for value would seem unlikely to change.