CareLink Mobile Audiology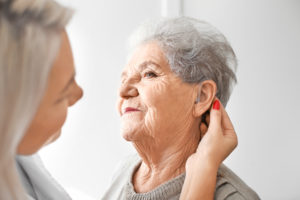 "Blindness cuts us off from things, but deafness cuts us off from people."
-Helen Keller
What is an Audiologist?
An audiologist is a highly-trained professional who specializes in hearing care. Their focus is to identify and assess complex hearing issues, balance disorders and dysfunctions, and then help find positive solutions. They can also assist in the selection and proper fitting of hearing aids and other assistive listening devices.
Why is Proper Audiology Care Critical?
Approximately ten million adults over the age of 65 are likely to have some degree of hearing loss. When left untreated, hearing loss can lead to communication difficulties that can negatively impact familial relationships, increase the likelihood of accidental falls, alter one's quality of life, and puts an individual at risk for cognitive decline.
CareLink Mobile Audiology Services
Our focus with CareLink Mobile Audiology is to provide convenient, comprehensive, and affordable care for individuals with difficulty hearing. With the guidance of a CareLink audiologist, individuals are able to receive personalized, patient-focused care in long-term care facilities, assisted living, senior living communities, and also in our outpatient clinics. Our team's compassionate approach leads to a better understanding of one's hearing loss issues, their specific lifestyle and budget when assisting them find their best solutions. CareLink staff also manages scheduling, insurance verification, and billing. 
CareLink Mobile Audiology provides:
Comprehensive audiologic evaluations

Complimentary hearing aid evaluations, conducted by a board-certified audiologist

Affordable hearing aid options from coveted manufacturers

Hearing aid repair and cleanings

Convenient onsite services and flexible appointment hours, including weekend visits
Insurance Information
CareLink Mobile Audiology accepts Medicaid, private pay, and most private insurers. Interest-free financing options are also available for qualified patients.