Offers advice for seniors and caregivers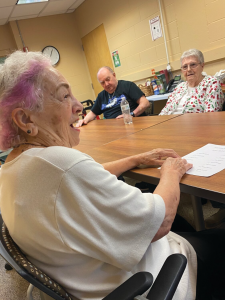 Cranston resident Sylvia Weber has never stopped working.
The Air Force and Army military reservist is a trained psychiatric nurse who worked for many years with Vietnam veterans to treat their PTSD and substance abuse disorders. Once in her own private counseling practice located in Warwick, she also worked at Butler Hospital, other psychiatric hospitals, and community health centers throughout the state and beyond, counseling people of all ages on their mental health issues.
Today, you can find this energetic octogenarian holding discussion therapy groups for residents at assisted living communities throughout the state. Funded by a Rhode Island Foundation grant, CareLink RI tasked its on-staff psychiatry service provider Sylvia in the role of psychiatric clinical nurse specialist six months ago to run weekly wellness groups at Saint Elizabeth Adult Day (East Greenwich), Steere House (Providence) and Winslow Gardens Assisted and Independent Living (East Providence).
"We get together with the residents and talk as a group for an hour about whatever they want," states Sylvia. "It could be discussing problems they're facing, family issues, the death of someone they care for, adjusting to their new living situation, or anything that's on their mind. Many of them are going through depression and anxiety, so the focus is on wellness living to enhance their lives."
According to Pew Center research, social isolation in older adults is linked to negative health outcomes such as difficulty staying active or taking medications and less cognitive stimulation. "Persons living in congregate settings can also experience isolation despite being surrounded by others," notes Dr. Chris Gadbois, chief executive officer of CareLink, Inc. "These wellness groups bring people together to focus on what can make their day and life more meaningful. It's where they can talk about their feelings in a safe space and really connect, which is different from participating in more diversional activities like Bingo."
A CareLink staff member tallies various outcome measures as part of this grant-funded program. "General feedback from the participants has shown a reduction in boredom and isolation, increased happiness, feeling less withdrawn, and having a sense of belonging and community," adds Gadbois.
For persons over the age of 65 years, mental health issues can be underestimated because older individuals are less likely to report symptoms or misattribute them as symptoms of other chronic illnesses. In Rhode Island, the percentage of older individuals reporting frequent mental distress defined as 14 or more days in the last 30 days has risen from 7.4% to 8.4% (source: RI Behavioral Risk Factor Surveillance System). The 2020 RI Healthy Aging Data Report shows 36% of females and 21% of males aged 65+ had anxiety disorder, and 39% of females and 25% of males in that age group had some sort of depression.
Based on her decades of psychiatric consultation, Sylvia offers the following advice for maintaining mental wellness in older adults: 1) Find an activity you enjoy and do it every day (walking, TV program, books, arts and crafts); 2) Maintain self-care (fresh air, relaxation, meditation, anything to enhance your energy); 3) Create a support system for the caregiver (friends that can help you take a break even for a half hour, because "if you don't take care of yourself, you can't take care of others," according to Sylvia); and 4) Always listen to others without judgment (it's OK to have concerns but just being there to listen is therapeutic).
CareLink is a nonprofit healthcare network of post-acute and community-based providers serving adults with complex health issues. For more information about CareLink's wellness groups and psychiatry services, contact CareLink Chief Growth Officer Robyn Earley at 401-490-7610 X131.
###
Established in 1997, CareLink Rhode Island is a nonprot network of post-acute and community- based providers and direct care staff serving adults with complex health issues. Its membership base includes home care, hospice, adult day health, long-term care, assisted living, short-term and outpatient rehabilitation, and independent living providers throughout Rhode Island. CareLink, Inc. is located at 400 Massasoit Avenue, Suite 300 in East Providence, RI 02914; phone: 401.490.7610; web: www.carelinkri.org (http://www.carelinkri.org).
Source: cranstononline.com/stories/cranston-resident-says-she-cant-turn-off-being-a-nurse