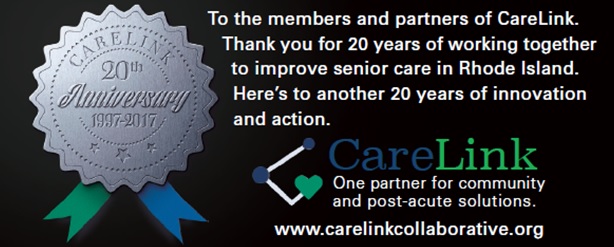 CareLink is excited to announce that it was recently featured in The Advisory Board Company's Care Transformation blog. Our CEO, Joan Kwiatkowski provided insight into the genesis and evolution of CareLink since it was founded in 1997. Check out the blog post below!
A different kind of post-acute network
by Jared Landis and Faraz Salahuddin
Alternative payment models have encouraged hospitals to focus on cross-provider collaboration in the post-acute space, which generally occurs through the hospital-led preferred post-acute networks (PPN) that have garnered significant industry attention in recent years.
However, in select markets post-acute providers are proactively coming together to form independent post-acute networks—with a unique commitment to collaboration among competitors as a means of improving care for the seniors in their communities.
CareLink is one of the country's longest running independent post-acute networks, currently comprising 37 post-acute providers and senior care programs across Rhode Island. We sat down with Joan Kwiatkowski, CEO of CareLink, to talk about how the organization has been bringing together providers and bettering post-acute care in the state for the last 20 years.
Q. To start, could you give an overview of how the CareLink collaborative began? 
Joan K: CareLink started in 1997 when four nursing home administrators decided that the organizations they represented needed to work together to respond to changes happening in the health care marketplace. Individually, these four stand-alone nursing homes knew that they couldn't negotiate with larger health systems, but by acting collaboratively they stood to gain both strength and leverage.
Recognizing the potential for collaborative efficiency, the boards of the four nursing homes jumped onboard—and the CareLink partnership was born. From the original four, the collaborative has grown to span the full continuum of post-acute services ranging from housing to hospice to skilled nursing care.
Q. Can you briefly introduce the CareLink model, for those not familiar with these types of independent post-acute networks?
Joan K: CareLink exists as a separate entity that manages and convenes a network of post-acute and community service providers. We use our collective power for economies of scale via group purchasing, and—given the full continuum of post-acute services we represent—we are also in a position to attract and negotiate with managed care organizations in our area.
Our structure means that members retain their individual identities and operate largely on their own, but all fully agree to collaborate and solve challenges facing the elderly and those in need of post-acute services in Rhode Island. As CareLink, we help facilitate that collaboration, bringing better clinical quality to our members and the seniors they serve.
Q. How does this model differ from a preferred PAC network that a hospital might set-up?
Joan K: At its most fundamental level, our members are far more aligned than what one might typically see in a hospital-focused preferred PAC network.There, individual providers are interested primarily in reporting to and working with the hospital—not each other. Our members have chosen to relinquish some of their independence in order to pursue solutions that they would not have been able to access, afford, or operationalize alone. To give an example, after the economic downturn in 2007, our members were struggling to recruit staff, so we combined resources within the collaborative to set up a staffing agency to address that issue.
Another way in which we differ from many hospital PPNs is that we offer a much wider post-acute and senior care continuum to our patients. In my experience, many hospitals build preferred networks exclusively with SNFs or Home Health Agencies, but in today's world of population health, I don't see how you can succeed without the support of a full continuum. 
Q. Can you provide us with any practical examples of how CareLink has been able to impact the patients and communities that your members' serve?
Joan K: We believe that unified leadership and collaboration can drive care delivery innovation that is good for all involved providers. That's what CareLink has sought to do from its earliest days. Soon after the organization started, we built research relationships and hired our first Chief Medical Officer—kicking off our journey towards developing better care protocols in the post-acute space.
Perhaps two of the best examples in this regard are our PACE-RI and mobile dentistry programs. Oral care in particular is a real need for patients in skilled nursing facilities across the state, and our members were also stipulated to provide dental care under the PACE-RI program. However, providers were struggling to bring dentists on-site because of some perceived unattractiveness of practicing in nursing homes. A problem unconnected to patients was limiting them from receiving the care they needed. Leveraging the network, we were able to build our own mobile dentistry unit, called Wisdom Tooth, and immediately benefit our elderly community. Today we are able to give oral health access to over half of the state's nursing home residents.
Q. You operate a PACE program. Can you elaborate on how that aligns with CareLink's mission to support seniors across Rhode Island?
Joan K: Running a PACE program, which is meant to be an all-encompassing initiative to meet the needs of dual-eligible patients, is a significant responsibility. And so establishing one took a combination of vision, dedication, and extensive planning among our member organizations. But using our combined resources and expertise to tackle larger problems is exactly what we wanted to do when we built this collaborative.
PACE is a health plan and provider that offers comprehensive, team-driven, individualized care to older adults (age 55+) with chronic health needs. The average age of those we serve is 75, though recently we are helping more participants in their late 50s and 60s who are living with behavioral health challenges. Nearly half of our population speaks a primary language other than English, 33% have dementia, and 46% have six or more chronic health conditions. The majority are dual-eligibles, but we have the ability to care for private pay clients as well. We have compelling results: 31% of our participants have had no hospitalizations since enrollment, which is exceptional given the high acuity of our participants. The average inpatient length of stay (non-psychiatric) is 3.7 days for the last 12 months compared to 5.0 days nationally for Medicare FFS beneficiaries.
CareLink members all serve a variety of high acuity older adults, and more often than not those clients would benefit with stronger clinical and social supports. That is what drove many CareLink members to be co-founders of the PACE program.